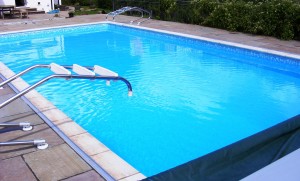 It is the desire of every family to have a pool they can swim comfortably in all year round from one season to the next. However, this can at times be a challenge particularly in cases where the heating system is not serviced enough to go the entire year. This is why our pool heating technicians at Royal Palm Beach Air Conditioning are always out helping customers to make the most out of their pool investment. We help both residential and commercial customers keep their swimming pools warm and usable 365 days a year for extended enjoyment and comfort.
With our wide range of pool heating repair services, you no longer have to watch your pool going unused as winter approaches. Our heating solutions keep you in the water no matter the season.
Why Choose Royal Palm Beach Air Conditioning?
As a locally owned and operated business with lots of years of experience behind us, we are the best positioned in the market to help you enhance the comfort and usefulness of your pool. We are fully licensed and insured pool heating repair professionals who not only service, but also help you in the installation of your pool heating systems.
We provide you with the best service at the best price so that you can rest knowing your pool heating needs are being met in the most professional manner.
The Pool Heating Systems We Service
Choosing the best pool heating system is a right step towards an enjoyable pool experience irrespective of the weather. However, the manner in which you handle your pool heating system including repairs and maintenance can mean the realization or undermining of this goal. Royal Palm Beach Air Conditioning is a company that understands pool heating systems from inside out. We service the following pool heating systems:
Heat Pumps – If you are looking for a cheaper to operate pool heating system, heat pumps are the best for you. They will give you consistent and reliable performance, a faster recovery and a safe means of heating your pool. Our technicians are well-versed with the operation system of heat pumps thereby able to identify the problem in case of malfunction.
Gas Heaters – The swimming pool gas heating system has the advantage of maintaining any temperature irrespective of the weather. We recommend this type of heating system to those who are offering therapeutic exercises. However, due to the rising cost of fuel, gas pool heaters should be installed as backup systems.
Solar Pool Heaters – This is probably the most economical pool heating solution that integrates solar energy which is free, clean and inexhaustible to give you a warm pool throughout the year. Our pool heating repair experts are trained in solar energy and can offer reliable services including installation, repair and maintenance of these systems.
In case your pool heating system stops heating, takes long to achieve the desired temperature or doesn't attain the temperature at all, get in touch with us at 561-401-0429 because we have the solution.